Our tradition to take a formal family shot before leaving the house
Decked in colours for the first day of CNY
A family photo with Karomah hehe
New wallet for the "new year"
Love it to bits! It's my christmas present from mom, chose this because I am so sick of both my Kate Spades… bored of long wallets already. They take up too much space in my bag haha
Gambling circle without the gambling -__-
Dad & his brothers
The wifes (not in correct order)
Yup there's only 3 girls in our generation. Damn sian.
The Ho family
Mom's side cousins - Ayrton & Arjuna
Fav aunt and her weird pose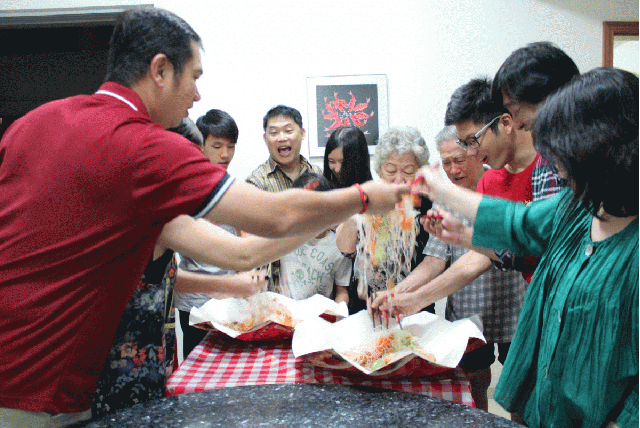 Finally switched to flickr since photobucket is being a bitch. Photos are sooooo much clearer omg now I regret being lazy and not switching sides earlier. Hahaha. Only sucky part is that copying and pasting the html code over is more tedious.. but I'll get used to it!
So that was the first day of my chinese new year, the usual routine like every other year. First to my dad's side followed by my mom's side. Lou hei all day everyday~ The past few years I've been extremely distant from my cousins, blame it on our teenager phase. Or rather, mine. This year was a lot better, everyone talked! No more anti social gatherings at my dad's side which is a super huge improvement in the recent years :)
Mom's side is same old same old, all of us are closer than ever as always. I guess it's also because it's a much smaller group plus we meet every Saturday without fail so things can never be awkward. Ever. I love my family!!! The whole lot of them ♥